(Español)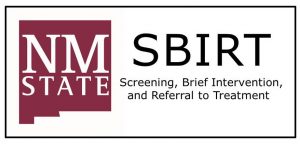 SBIRT @ NMSU is a collaborative and interdisciplinary effort between the NMSU School of Social Work, the NMSU School of Nursing, and the NMSU Department of Counseling and Educational Psychology. SAMHSA's SBIRT curriculum will be threaded into the core coursework for students in social work, nursing and counseling, and students will be given practice opportunities to supplement their learning experience.

The purpose of SBIRT @ NMSU is to meet the needs of vulnerable and underserved populations at risk of substance use disorder by increasing the number of entry level and seasoned health professionals trained in screening, brief intervention, and referral to treatment (SBIRT) in New Mexico. The goal is to increase the adoption and practice of SBIRT throughout the social service and health care delivery system by fostering significant development of a skilled workforce able to serve populations at risk of SUD.

Content areas will include cultural competency in understanding and responding to the cultural needs of clients and organizations within the context of SBIRT, Motivational Interviewing (MI), various screening methods, the Stages of Change and other theoretical concepts related to the process of change.

Since 2003, SAMHSA has funded 17 Medical Residency Cooperative Agreements, 32 State Cooperative Agreements, and 12 Targeted Capacity Expansion Campus Screening and Brief Intervention (SBI) Grants, and 14 SBIRT Medical Professionals Training grants.

NMSU is one of 5 institutions awarded in SAMHSA's second cycle of SBIRT Medical Professional Training grants. The purpose of the award is to develop and implement training programs to teach health professionals (students of nursing, social work, and counseling) the skills necessary to provide evidence-based screening, brief intervention and brief treatment and to refer patients who are at risk for a substance use disorder (SUD) to appropriate treatment. The project began in September 2014 and will conclude in August 2017.