2019 Core Curriculum
The Master of Social Work Program at New Mexico State University is comprised of two levels of social work education; foundation and concentration. A common core of social work values, knowledge and skills unifies practice at both levels. The MSW Program is designed to provide academic and fieldwork education with an emphasis on advanced generalist practice in multi-cultural settings with vulnerable populations.
The MSW Program offers the following courses of study:
Full-Time – site based or online (2 years)

Part-time – site based and online (3 years)

Advanced Standing – site based and online (1 year)

Part-time Advanced Standing- site based and online (2 years)
Advanced Generalist Practice
This advanced generalist, collaborative practice approach promotes skills and knowledge for focused interventions with individuals, groups, families, neighborhoods, communities, organizations and public policies. The NMSU program is founded on the use of critical thinking skills and differential application of advanced social work knowledge, theories, skills, values and ethics in the assessment of and intervention with micro, mezzo, and macro level systems.
Foundation
The purpose of the first (or generalist) year is to provide the basic foundation that distinguishes social work from other helping professions. This foundation is taught in terms of knowledge-guided frameworks for effectively managing the various phases of the empowerment process with the multiple levels of client systems with whom we work in direct practice.
Generalist Curriculum Model: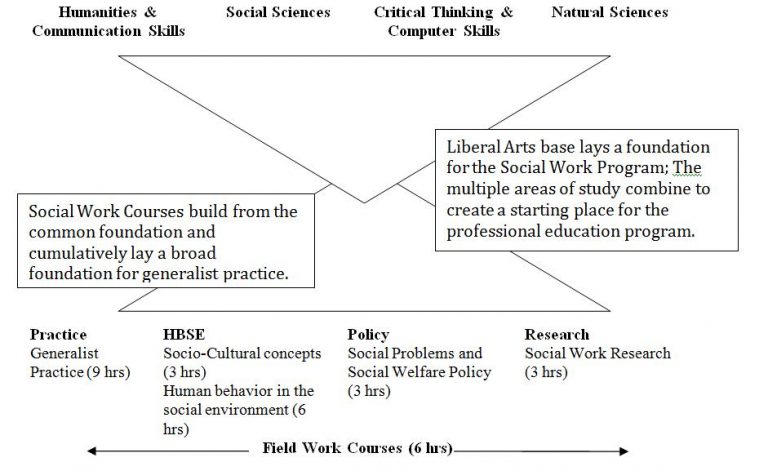 Concentration
The Advanced Generalist Concentration year prepares social work practitioners to exercise professional autonomy, leadership, and creativity necessary for multidimensional contextual and ethical practice in rapidly changing social environments with populations of the southwest.
Students entering the Advanced Standing program begin their coursework directly into the advanced concentration year.
Advanced Generalist Curriculum Model: